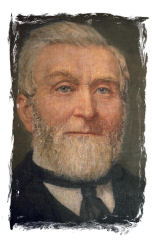 Huron City Museums
The Huron City Museums are owned and operated by the William Lyon Phelps Foundation, a private, charitable, tax exempt organization founded in 1947 by Charles A. Parcells, Sr. (1888-1948) to commemorate the teaching, writings and life of Yale professor of English, William Lyon Phelps (1865-1943).
The foundation is dedicated to educational and charitable purposes.

Mission of the Museums
The Huron City Museums exist to preserve, display and present the buildings, collections and grounds of Huron City Village and the House of Seven Gables as historical museums, which are open to the public Fridays and Saturdays in July and August.
Profile:
A board of four trustees directs The William Lyon Phelps Foundation and Huron City Museums.
Members of the Association of Small Foundations, Museum Association, Port Austin Area Chamber of Commerce, Port Hope Chamber of Commerce, Friends of the Octagon Barn, and the Port Austin Area Historical Society.